taggiasca.com
glossary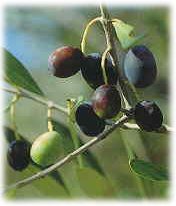 This concise glossary has the goal to facilitate the communication between growers and millers, with their particular slang, and the public, is as far as the Italian terms of little common use that the local terms.

Moreover many of these words belongs to an ancient oral tradition that need to be safeguarded before it despares.

Local terms are indicated in red.



Unit of measure of the olives
denomination
equivalence
in "quarte"
capacity
notes
cuppellu
1/4 of quarta
5 liters
1.32 US Gal.
obsolete term
quarta
base unit
20 liters
5.28 US Gal.

approximately 10-12 kg of olives
- still in use
sacco
(sack)
5 quarte
100 liters
26.42 US Gal.
sumà
2 sacchi
10 quarte
200 liters
52.83 US Gal.
quantitative of olives that anciently could carry a pack-animal
- still in use
pilà
5 sacchi
25 quarte
500 liters
132 US Gal.
quantitative of olives necessary to fill up the pilla

A
B
C
D
E
F
G
H
J
K
L
M
N
O
P
Q
R
S
T
U
V
W
X
Y
Z


A

B
béga
the larva of Dacus Oleæ (olive fly)

C
cavàgnu
basket made by chestnut wood interlaced strips used for the harvesting of olives

D
Dacus Oleæ
scientific name of the olive fly, parasite laying eggs in the olives causing the birth of beghe
drupa
the type of fruit of the olive tree

E

F

G
gumbaiô
miller
gumbo
mill

H

I
invaiatura
the change of color of a fruit during the maturation

J

K

L

M
mìgnole
flowers of the olive tree

N

O

P
paàne
mìgnole
pendàne
young branches (1 or 2 years) of the olive tree, hanging from the older and solid branches
pìlla
whole of grinder and container, anciently all in "colombina" stone, where olives are milled

Q

R
rapata, oliva
olive that has suffered the cold and therefore has assumed a wrinkled aspect
rebrundà
(verb) to prune the olive tree

S
sbatte
(verb) to beat down
sbattute, olive
olives harvested beating down them
seggia
special large bucket used in the mill for the oil working
spurtin
container of hemp rope or esparto that, filled up of paste of milled olives, is pressed to extract the oil

T
tènde
burlaps of linen or rough cotton used before the advent of plastic nets; they were spread under the tree to beat down to avoid the fruit to fall on the ground
trappa
stick of chestnut wood, light and resistant, from 2.50 to 3.50 meters long, used for the beating down
trapparello
(diminutive of trappa) stick of chestnut wood, light and resistant, from 1.70 to 2.20 meters long, used for the beating down
truncajà
(verb) to prune the olive trees

U

V

W

X

Y

Z


Previous page

Up

Main page

Growers

Site map

---
copyright © 1999 - 2000 by It-Web Information Technology - all rights reserved